Water Damage Restoration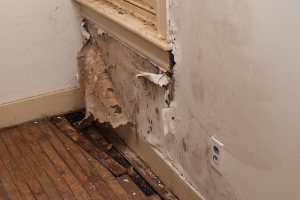 FCR is an expert contractor in water damage restoration. We evaluate water damaged job conditions and perform repairs using effective and equitable methods.
Quality is always a high priority with customer satisfaction being our aim. We understand where and what to remove, how to facilitate drying, and then restore your building to its original state. We are on call 24/7 in order to respond to your immediate needs. We are often able to minimize damages and prevent some of your most valuable and cherished belongings from being ruined.
In many cases our customers incur water damage but are unable to determine the source of the moisture. Our trained staff and crewmen are experienced and able to perform investigative services when necessary to locate the source of the water leak.
Listed below are some of the water damage services which we offer:
On call 24 hours a day, 7 days a week
Emergency services for quick response and damage mitigation
Structural drying
Insurance company coordination
Leak investigation
Emergency clean up
Expert level turn key operation repairs
Call us today at 763-786-4335 or click here to fill out our contact form.